On October 12, 2019, after strict review by SGS experts, Xi'an Green Spring passed the requirements of EU BRC A & B and IFS Broker dual system certification and successfully obtained BRC A & B and IFS Broker certification.
In the process of double certification, all staff of the company participated in training and fully participated in the combing and improvement of internal management processes. All departments learned the BRC A & B and IFS Broker standards in a short period of time. The selection of suppliers, product procurement, hazard risk assessment, sales link, food protection and other links are strictly reviewed, comprehensively combed and risk assessed, aiming to continuously provide customers with legal, safe and quality-assured products.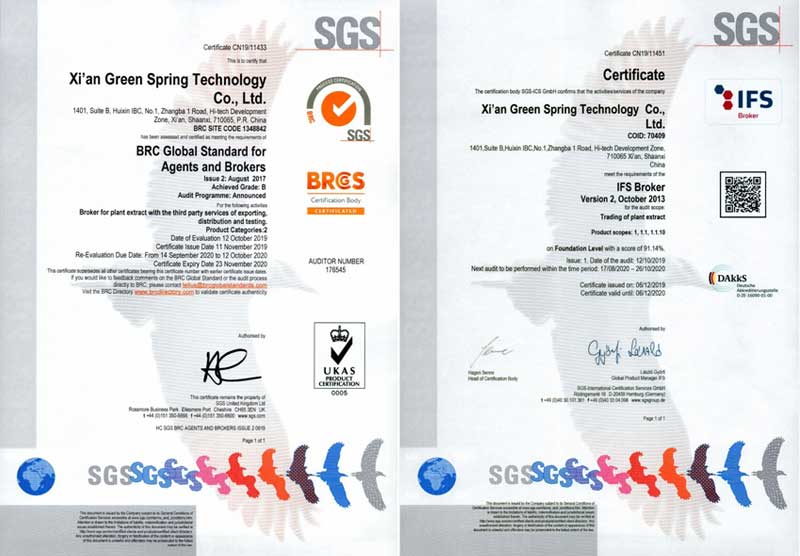 Today, BRC and IFS are the highest standards of the EU food safety system and have become internationally recognized food regulations. BRC certification and IFS certification are recognized by the Global Food Safety Initiative (GFSI). This time, Xi'an Green Spring can pass the EU BRC A & B and IFS Broker dual system certification, which is sufficient for our "Green Spring" brand food safety system and quality system standards. Recognition also means that the effectiveness of our company's food safety management system has been highly recognized by the European Union. In the future, Xi'an Green Spring will establish a more effective food safety system under the guidance of the BRC and IFS systems to ensure product quality, food safety, and legality.